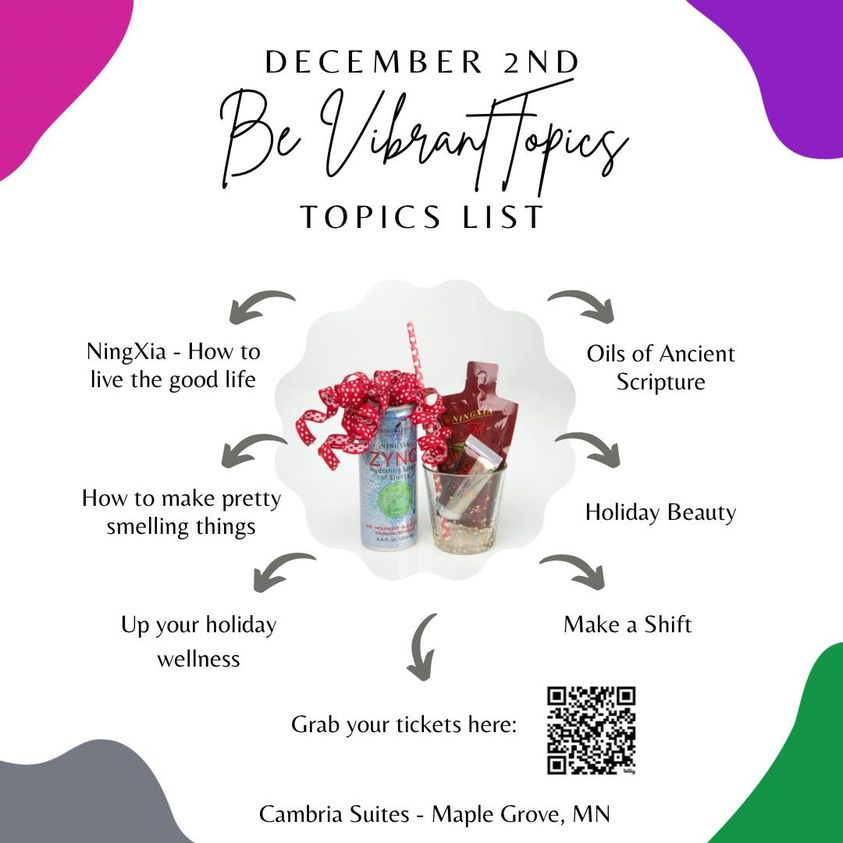 Dec 02, 2023 10:00 AM

–

Dec 02, 2023 04:00 PM

Central time
Morning Session 10am-12pm
Fuel Your Vibrant Energy with Ningxia Red - Star Moree, Kara Edstrom, & Sarah Kessler Ready to level up your sleep game, boost your chill and stress less, ramp up your energy levels, and even shed inches?

Embrace Vibrant Beauty - Sarah Kessler. Want the scoop on how to rock that forever young, fresh-faced look and the hottest anti-aging products? Don't miss this session!

Discover Vibrant Wellness - Panel *Sample them too! Are you looking for a convenient way to naturally boost your energy and enhance your well-being through your daily drink?

DIY Workshop - Get ready to DIY your way to holiday magic with Star's Roll-on, Shelia's Laundry Softener, Kara's Room Spray, and Sarah's Christmas Spirit Cleaner – it's a blast!

Closing & giveaways
Afternoon Session 1:30pm-4pm:
Explore A Rich History of Essential oils - Kara Edstrom This journey back in time will help you connect with the legacy and healing powers of essential oils. See how these ancient oils can enhance your modern well-being today.

Discover Vibrant Wellness - Panel We will help you customize your daily supplements. It's all about you!

Choose Your Path to Wellness - Lula Schiller Seamlessly weave the must-have supplements and oils into your daily groove for ultimate wellness!

Make a Shift - Casey Houghton Unlock savings with the 'Make a Shift Kits' and spill the beans on easy swaps for a healthier home and life to your friends, all while earning referral cash for that dream getaway or some guilt-free grocery shopping.

Closing & giveaways

Vendor shopping
Purchase at the Ningxia Red Bar

Dress in your festive shirt of red, green, or pink holiday attire.

Place your monthly Loyalty Order or Shop order (every 100pv = a ticket)
Grab your ticket by November 29th!
Check out the link for ALL the details and options that you have!
Please block your calendars for some of these sessions and grab your ticket sooner than later.
Having trouble with the link.. .click on the button to register and I will reach out to you!